slideshow photo credits
Welcome! We invite you to spend your next vacation right here in Lubec, the easternmost town in the U.S.A., in Washington County, Maine with 97 miles of shoreline and the friendliest people! Lubec is an adventure waiting to happen!
Discover the ease with which you can plan and spend your next vacation away from the maddening crowds, where the sun first rises on the United States of America, and a welcome awaits you! Lubec is where being yourself and enjoying life is second nature.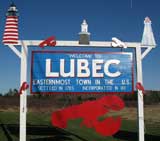 Current Lubec time
08/12/20
08:17 AM
If your cell phone has jumped ahead one hour, it is because your phone is picking up a Canadian signal. For Campobello time add one hour to the time above.
Sunrise: 04:30
Sunset: 18:34(approx. times)
What Lubec offers:
Year-round attractions
Rural / coastal setting
Tranquility and solitude
Rugged, natural beauty
Affordability
Unique, unaffected character, community and culture
Activities, services and amenities to welcome and satisfy business people, vacationing singles, couples and families.
What Lubec does not offer:
(So get your fill of these en route!)
Movie theaters
Shopping malls
Theme parks
Fast food restaurants
Heavy traffic
Stop lights
Lubec things to note
  Photo Credit: Lubec Bay Cottage
COVID-19 UPDATE:  Starting July 3rd, visitors from CT, NH, NJ, NY, and VT can visit Maine with no travel restrictions.  For now, visitors from other states can get tested then visit Lubec!  The governor's office has found an alternative to the 14-day quarantine for visitors to Maine!
"The State will allow adults who obtain and receive a negative COVID-19 test no later than 72 hours prior to arrival to forgo the 14-day quarantine upon arrival in Maine."
"Maine is strongly urging visitors to "Know Before You Go," and be tested and receive results in their home state before traveling to Maine, which will allow them to take appropriate action depending on the result. Websites like https://get-tested-covid19.org/ show local testing options nationwide."
"Residents from New Hampshire and Vermont are now exempt from the testing and quarantine requirements. Other visitors who meet the requirements can start visiting on June 26th.
People who are not Maine, New Hampshire Vermont residents must complete a Certificate of Compliance form indicating they have received a negative COVID-19 test result, that they will quarantine in Maine for 14 days, or that they have already completed their quarantine in Maine."
"This Certificate of Compliance must be provided to check-in at all Maine lodging, campgrounds, seasonal rentals, and other commercial lodging, such as Airbnb. Visitors may be asked to furnish proof of the negative test result upon request."
For more information and the form :  https://www.maine.gov/covid19/restartingmaine/keepmainehealthy?fbclid=IwAR3ofmHrTaoPfwTOf6NavJ5PrCoKMSaG5Aw2hj4wcYZ0Ia-0PcrHPxGsF04
If you wish to travel to Maine, but can't get tested in your home state, starting July 1st you can call Northern Light Covid-19 hotline at 844-489-1822 to see what testing is available in Maine.
If you come to Maine to get tested, you will be required to quarantine until you get your test result.
If the result is negative, you are free to travel and stay in Maine.   If the result is positive, you are required to return to your home and quarantine for 14 days.
*  Down East has two of The 10 Most Underrated Places To Visit in Maine That You Must Check Out !
*  Listen to what makes Lubec so special:  Lubec Audio Shorts by Galen Koch.
*  Forbes suggests "Vacation Like The Roosevelts On This Bay of Fundy Island"
*  Check us out on our Facebook page Visit Lubec Maine and Like Us!
2021 Down East Spring Birding Festival (17th Annual)
May 28 - 31: A unique birding experience during spring migration & the breeding season with four days of guided hikes, boat tours & presentations.
Summerkeys Begins for the 2021 Summer!
Jun 16: 2021 Schedule Coming Soon! Enjoy a live performance by John Newell – piano, Ina Litera – Viola and Matt Goeke – Cello (free admission)
2021 8th Annual Bay of Fundy International Marathon
June 25 - 27: Two Countries...One Marathon; Half-Marathon; 10K; Fun Run & 52K Ultramarathon
You provide a valuable resource to us all here in Washington County.
-- Patricia C., Eastport, ME
Every effort has been made to verify the accuracy of data on this website and any errors are purely accidental.  Please contact the business establishment directly to verify rates and other details.  
*************************************************
DISCLAIMER:  
APPLE provides the https://www.VisitLubecMaine.com Web site as a service to the public.
APPLE is not responsible for, and expressly disclaims all liability for, damages of any kind arising out of use, reference to, or reliance on any information contained within its Web site. While the information contained within its Web site is periodically updated, no guarantee is given that the information provided in this Web site is correct, complete, accurate and up-to-date.  All information shown is subject to change.
Although the APPLE Web site may include links providing direct access to other Internet resources, including Web sites, APPLE is not responsible for the accuracy or content of information contained in these sites.
As a convenience only, VisitLubecMaine.com contains links to other websites belonging to or operated by third parties. By making these links available, APPLE is not endorsing third-party websites, their content, products, services or the owners of these third-party websites.
**************************************************
Please help us keep VisitLubecMaine.com as up-to-date and accurate as possible.  If you wish to point out any errors or update outdated information, please do so to Events@visitlubecmaine.com